Cozy Classic White Kitchen Inspiration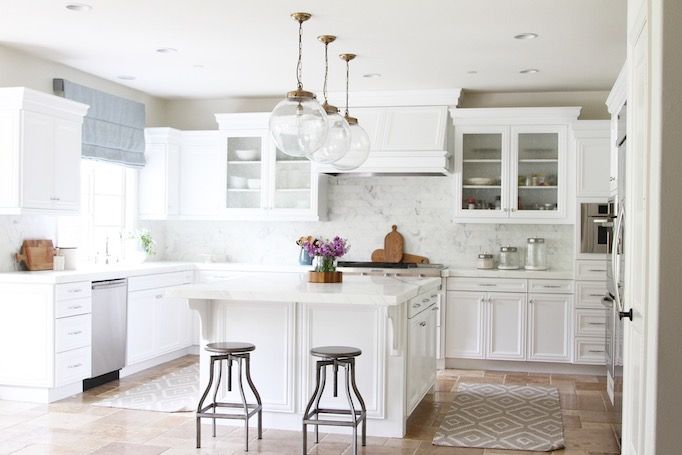 Before moving in the walls in our kitchen were red on some walls and green on others. For a quick change to the overall space, we painted the walls Shoji White (although we haven't gotten around to painting over the green yet). We've played around with the idea of painting the cabinets and changing out the hardware, but really want to switch up the work flow in the kitchen and open up the space. Which means...we're renovating! Here is our kitchen today: I love the hardwood floors, natural light and bead-board ceiling.
I joked early on when we bought the house that this was everything I ever wanted...a house to renovate. I am naively excited for the renovation. It means losing our kitchen for longer than I would like to imagine and potentially displacing us during bigger work weeks when things like plumbing, are installed, but I am so excited (we'll see if that excitement holds in the process, ha). I'm working on the new layout for the kitchen to share with you all next week including a wall tear down between our current dining room and kitchen and improvements to the house-flow!
Browsing kitchen inspiration, I'm drawn to a classic white kitchen with bright white cabinets, gray and white counters like the popular carrara marble, a marble backsplash and brass accents that would match perfectly with our existing decor in the dining room. I love what Becki Owens pulled together in this kitchen redesign. Scroll down for some more of my favorites that depict a classic white kitchen combo.
This kitchen by Nicole Davis Interiors is one of those spaces I feel like was designed for me. If I could just port this kitchen over to our home we'd be done. It's break-taking (can a kitchen be breath-taking??) yet cozy.
Caitlin Wilson Designs takes a classic white kitchen to the next level pulling the marble backsplash all the way up the full wall. I love how polished this looks but still intimate and inviting mixed with the floral window shade.
We definitely don't have the space for something this grand, the theme remains the same - full wall marble, brass hardware and white cabinets in Rachel Parcell's kitchen.
Like Studio Mcgee, I'll be looking for some details to mix and match styles within the classic white kitchen for that pop that a piece like a modern stool can bring to an otherwise traditional space.