Demo Day Is Here!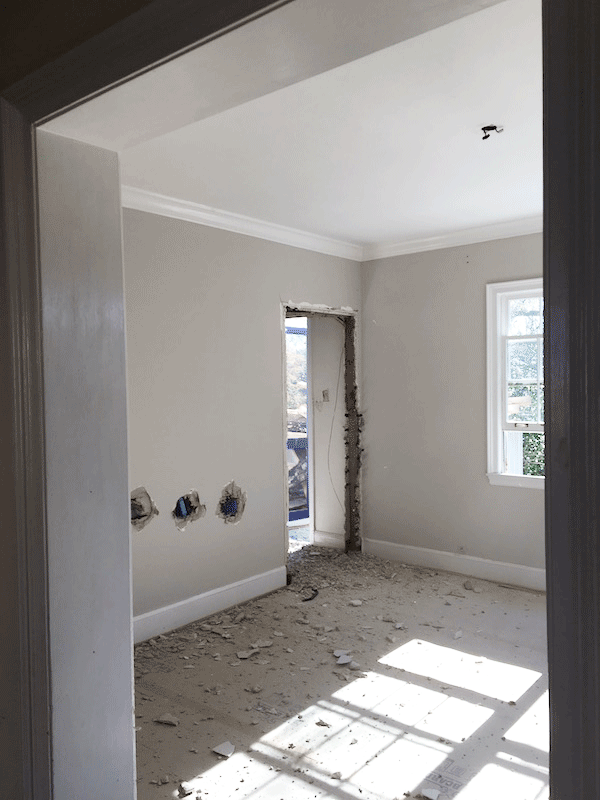 Christmas came early this year... I am thrilled to share that demo has begun!!!
If you follow me on Instagram, you saw a sneak peak of demo day. WOOOO!!  If this is your first time following along on our renovations, welcome! You can catch up on our renovation plans, here – 1st floor, 2nd floor.
Now onto the demo!
We are gut the existing kitchen and taking down the wall between the kitchen and the dining room to add a bathroom and open up the floor plan.
The decision to get rid of a formal dining room was a big one. The dining room has consistently been our favorite room in the house - it's a great size and gets amazing natural light all day. But here we go!
Floorplan, before
Current Living Room
Current Dining Room
Dining Room To Kitchen
The Kitchen - Before
The same view of the kitchen - after
The wall between the kitchen and the dining room
Before Demo
Demo In Progress
The wall is down! Here is the view  from the kitchen to the dining room.
The view from the dining room into the kitchen
The view looking towards the living room
The view from the dining room to the front door.
Plans for the space
These are clearly work-in-progress demo photos. The space is a disaster like that plaster wire hanging from the ceiling that seems right out of a sci-fi movie.