Designing Our Dining Room: Week One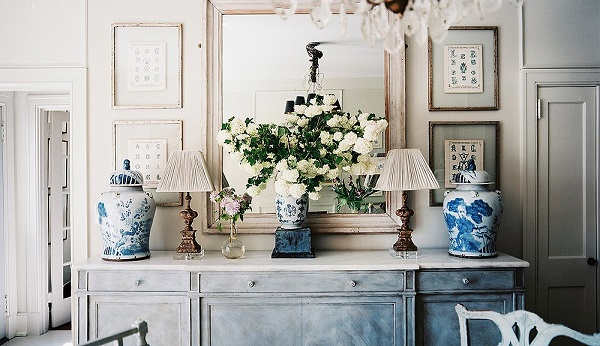 The dining room has been at the top of my list on rooms to design first in our house (despite the fact that we have plans to renovate). We have been eating home cooked meals at our coffee table or kitchen counter for too long, and I am antsy to get a dining room in order. Taking a page from a group of pretty kick ass designers, I'm taking a page from their book and trying out my own One Room Challenge. The goal is to finish designing the dining room in just six weeks (hopefully sooner). The dining room was my favorite room in the house when we were house hunting. The previous owners outfitted the room with a trestle table + mix and match french chairs. Once they moved out, here was the room.
For this room, we are starting at square one. Neither CT nor I have any dining room furniture which is both exciting and daunting at the same time. Some immediate changes to make to the framework of the room itself before we even start decorating like new paint! (See what I mean on how cute their table + chair set up was).
So far, we've tackled two and let's say a half of the immediate to-dos. Before moving our stuff into the house, we repainted all of the walls, which in this room was desperately needed. The paint was peeling off all over the room like a bad sunburn.
For the new paint, I choose a warm gray, Sherwin Williams Popular Gray. It does really well in this space with the light. I also took the shades down in the process (that's the half).
Next, we tackled removing the radiators to open up more space for table and chairs.
Now onto my plan for the room decor. I used inspiration from a couple different dining rooms I love pulling different pieces from each room to create a transitional look. I am keeping an eye out for pieces I can upcycle to save some money. The table style was the easiest thing for me to pick since I fell in love with the previous owner's trestle table. I love the look of the natural wood, but have heard different reviews on ware and tear.
Building off the table, I went looking for sideboards and buffet inspiration and loved the look of this more traditional buffet with ginger jars. I marked this item down on my list as something I think I can DIY. I've been trolling Craigslist for a piece with the right bones to upcycle.
Then I looked at the chandelier trying to decide if I wanted to go for something that fit the rest of the look or if I should go for a statement piece. In a room I like to add one or two pieces from a different design style to make the room a little bit more interesting. These statement pendants from Monika Hibbs home caught my eye for a glamorous old world addition to the room.
Here is my mood board for my design plan. I'm not quite sure what to call the designs style. So I'll go with - modern rustic glam.
Modern Rustic Glam
1. Brass Globe Pendant // 2. Herringbone Lawford Dining Chairs // 3. Wooden Trestle Dining Table // 4. Natural Fiber Rug with Border // 5. Sika Design Bistro Chair
I've tasked myself with finishing this room within a few weeks so I'm moving fast and furiously on the project. It's funny what eating at the coffee table for a year or so will do to a girl. Check back next Monday where I'll be sharing our progress.